Our extensive global supply chain and distribution network provides our customers with a secure and reliable supply of methanol.
Our global production sites are supported by in-region marketing offices and an extensive global network of terminals, storage facilities and the world's largest fleet of methanol ocean tankers.
Global Supply Chain
With offices in every major market, our global team has the ability to quickly adapt and respond to our customers' needs. Our dedicated global employees build partnerships with customers and strive to provide world class customer service. Our integrated in-region logistics capabilities provide us unique flexibility to deliver product directly to customers by several modes of transport including tanker, barge, rail, truck and pipeline.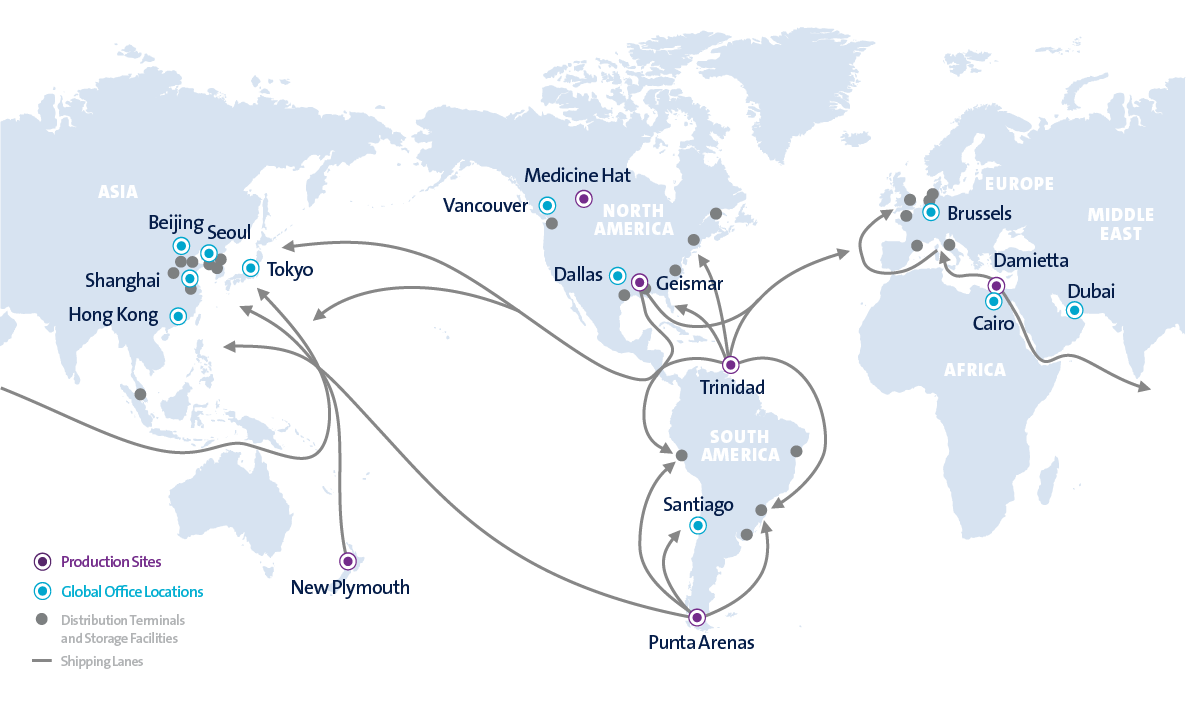 Dedicated Tanker Fleet
Our global supply chain is underpinned by the world's largest methanol ocean tanker fleet. Our subsidiary, Waterfront Shipping, operates our fleet which is made up of 30 deep-sea tankers ranging from 3,000 to 50,000 deadweight tonnes of capacity. Approximately 85% of our product is transported by Waterfront Shipping. Please visit Waterfront Shipping's website to learn more.
Flexibility of Supply
In addition to selling methanol produced at our own facilities, we have purchase agreements with other suppliers and we buy methanol through offtake agreements and on the spot market. This provides additional flexibility in providing our customers with a secure, reliable supply of methanol.
Product Stewardship
We are dedicated to minimizing risks during all phases of methanol transportation, distribution, storage and use. To read more about the safe handling of methanol, please visit this page.
Online Access to Schedules & Documents
Our customers can access accurate, up-to-date information on their shipments and product documentation through a secure online customer portal.
Customer Service and Sales Contacts
Visit our Contact page for a complete list of contacts.